Computing Vision Statement
Engaging – Encouraging – Empowering
Vision
The Blue Coat School's vision for the Computing curriculum in Prep is built on the following principles which underpin our teaching and learning:
Inspiring confident users of technology in a 24/7/365 connected world
Engaging children with exciting, relevant, real-world technologies
Encouraging children to use online tools safely, effectively, ethically, and respectfully
Empowering children to take ownership of their digital lives
The Computing Centre
Pupils in Prep receive specialist Computing lessons each week in our spacious Computing Centre. Pupils bring along their own school-supplied iPad, equipped with digital stylus and keyboard, to these lessons.
Core productivity skills such as word processing, spreadsheets and presentations are covered in the curriculum, along with video editing, podcasting, web design, coding/programming, game development and app creation.
The Computing Centre is a wonderfully creative space where pupils are encouraged to work collaboratively and to be risk takers.
They can experiment with green-screen filming and editing, or be part of a production team working on a live TV show. They can explore virtual learning resources such as augmented and virtual reality and can engage in fun STEM lessons using our Sphero coding robots. Everything we do encourages exploration, collaboration, imagination and perseverance. 
All of our pupils are taught to use the internet responsibly and respectfully through a series of Online Safety lessons.
Limitless Learning
Digital technology is the fastest developing aspect of the curriculum, within every subject, not just in Computing. Each lesson seeks to empower pupils with the skills and knowledge to thrive in a digital world. 
Coding and programming 
Media Literacy
Creative Design
Artificial intelligence, augmented reality and virtual reality
Digital citizenship
An Extraordinary Lesson
The opportunities for discovery and innovative use of technology are limitless.
For pupils with a strong interest in technology, they can showcase their skills by applying for a leadership role as a Digital Leader. Alternatively, pupils can opt to attend the Tech Playground, one of our TED (Thinking, Exploring, Doing) activities on a Friday afternoon. These co-curricular sessions give pupils the opportunity to work on projects such as coding the Sphero robots on activity mats using challenge cards, creating instructional videos for other pupils and staff to learn from, or simply exploring some of the augmented reality apps on the iPads.
All Prep pupils also take part in the annual Bebras Computing Challenge.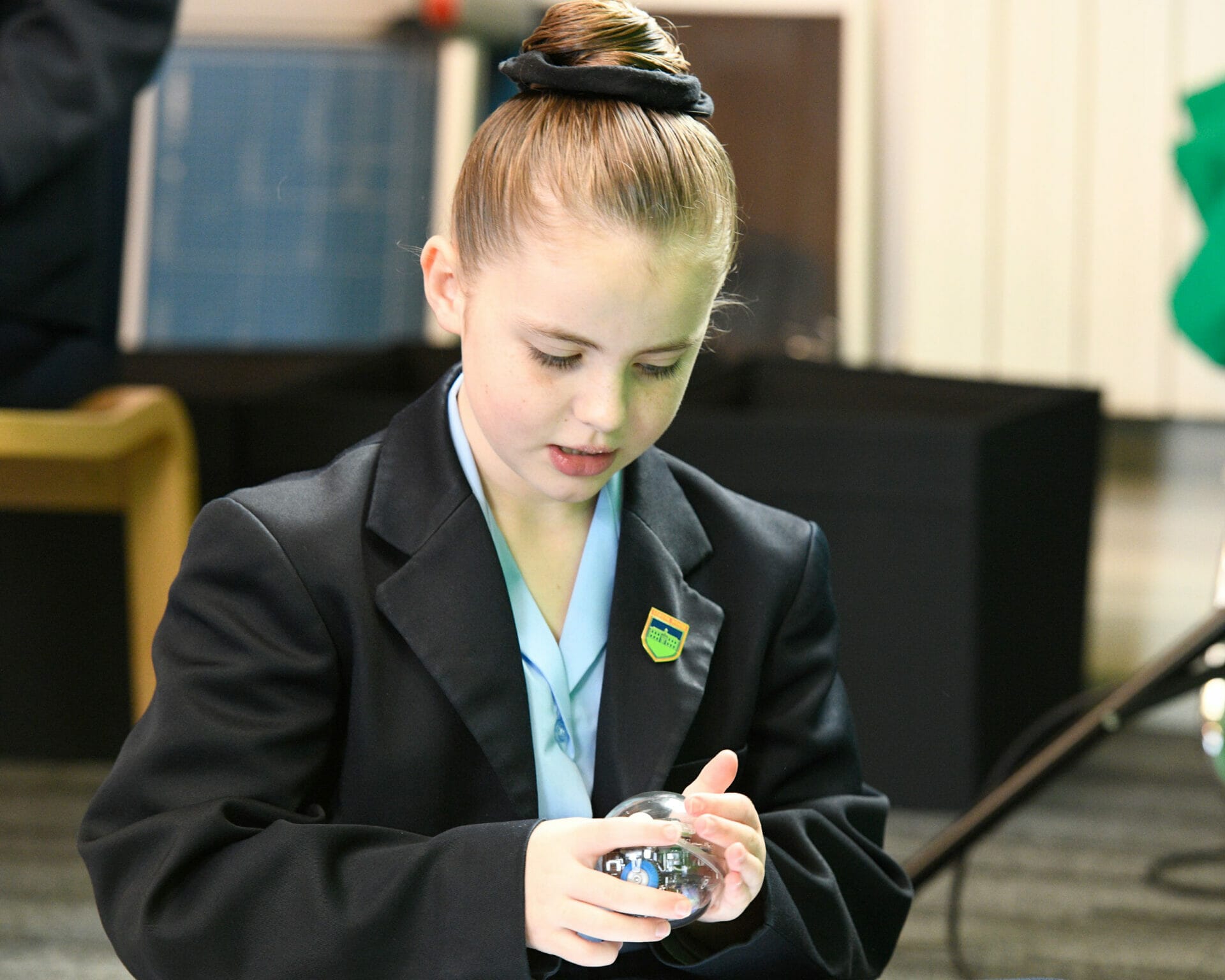 Lifelong Love of Learning
Sparks of curiosity are ignited during their Computing lessons which enable our pupils to develop a fascination for technology, programming, and problem-solving. 
We develop critical thinking, encourage exploration, and nurture a growth mindset. Our pupils learn not only to use technology ethically and responsibly, but also to really understand it. Our pupils' lifelong fascination with how the digital world functions begins at BCS.