Limitless Learning for Tomorrow's Achievers
In Key Stage 1 (KS1) at The Blue Coat School, the teaching programme is based on the national curriculum, but with much more flexibility and room for independent thought, mastery of learning outcomes, and the exploration of topical issues. Progressing from the skills acquired in the EYFS, literacy and numeracy are further developed as key components of the teaching programme.
Maths & English
In Year 1, the School day becomes more structured. Children have a Maths and an English lesson each morning and other subjects are taught in the afternoons. 
Children will be introduced to a range of mathematical skills, but focus is given to mastering numbers and counting techniques before progressing to higher figures. 
In English, children will continue to progress their phonics. Followed by a greater emphasis on skills such as grammar and punctuation, handwriting, comprehension and creative writing. 
Specialist Subjects
Year 1 is the first time children are taught specific, standalone subjects such as Computing and Creative Arts. The majority of lessons will be taught by their Class Teacher, but some lessons such as PE, Games, Swimming and Music will be taught by specialist teachers.
The curriculum is carefully planned and structured to foster links between the different subjects, thus building their understanding and mastery of a topic. All subjects are made as hands-on as possible, to make these early learning experiences unforgettable and rewarding. Children are also encouraged to explore and find things out for themselves.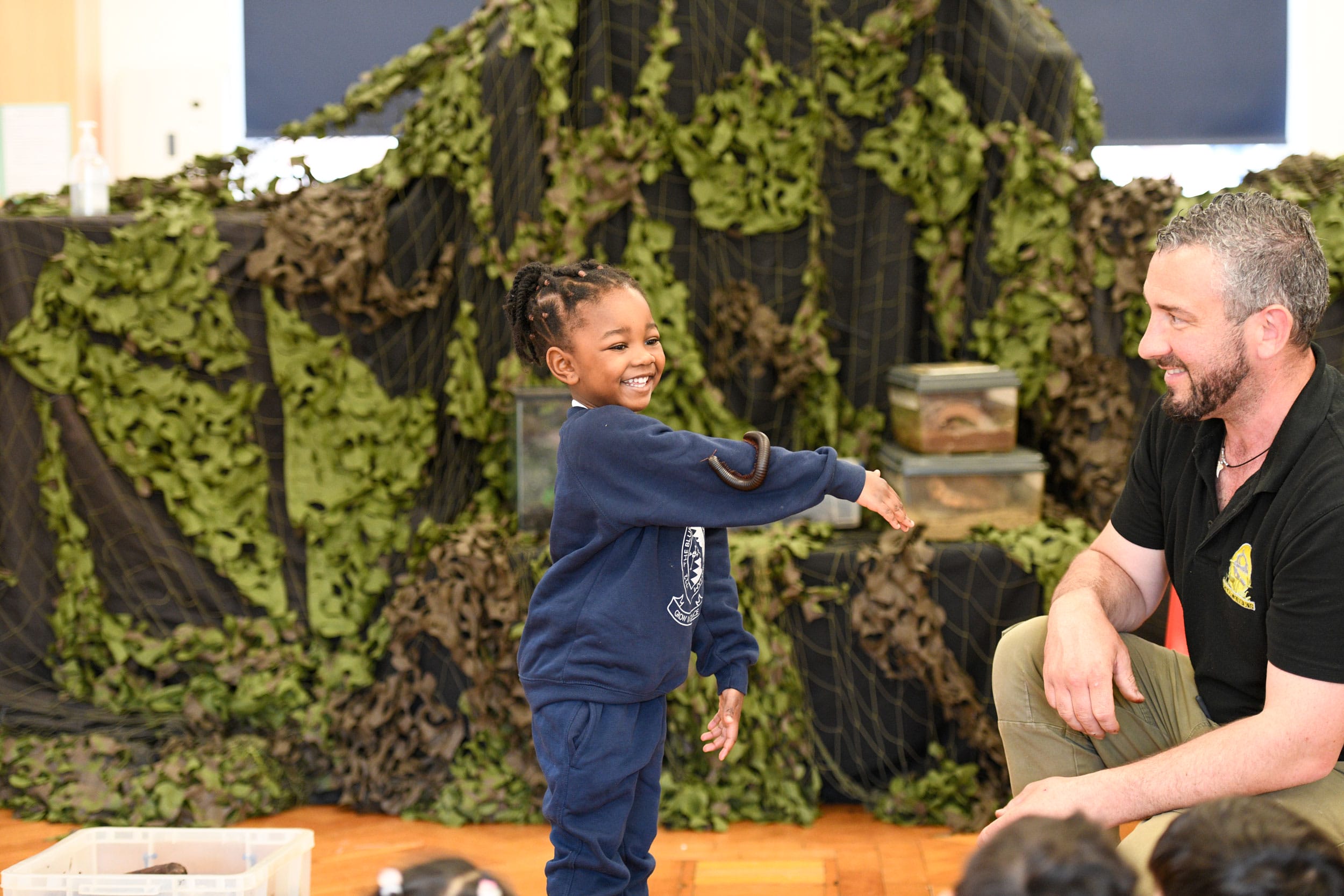 An
Extraordinary

Lesson

Once per term, classes in Year 1 will have an enrichment day. The theme will link to their termly curriculum.

An enrichment day is an immersive learning experience where children will dress up, undertake classroom activities based on the theme and the highlight of every enrichment day is a special practical activity which brings the subject to life.  

This could be learning another language, creating artwork or jewellery from another country, or coming face-to-face with animals you wouldn't normally find in School!
The BCS Blue
Year 1 is the first year in which pupils are given targets and assessed via The BCS Blue. This is the School's bespoke e-learning platform.
It is a secure, web-based interface in which staff, parents and pupils can view achievements, progress, and the next steps. It has already been shortlisted for two notable national awards which recognise The BCS Blue's holistic approach and use of technology. 
Assessments are on a two-yearly cycle. Therefore, in Year 1, pupils will work towards their new targets and gain momentum through The BCS Blue, however, they will not reach their final attainment level until they finish Year 2. Pupils and parents are invited to a special Prizegiving Ceremony for The BCS Blue at the end of Year 2 to reward their hard work and efforts.