13/05/2022
Founders Day Service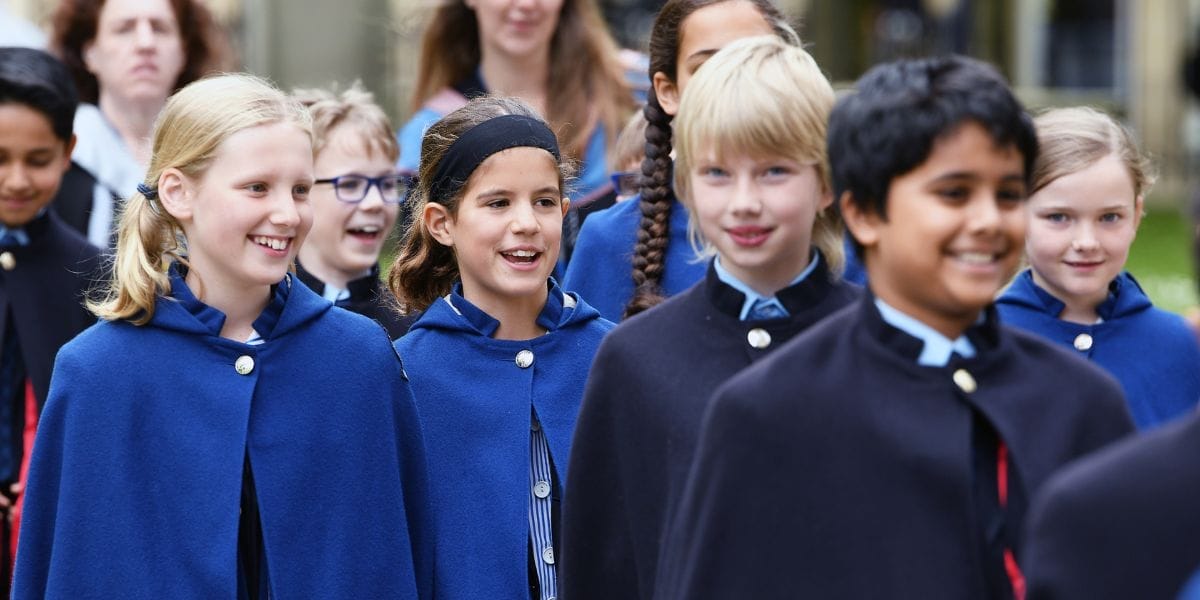 300 years ago, the foundation stone was laid down for the Blue Coat School. And this week, we have come together to celebrate the founding of our school and give thanks to God for his goodness and blessing on our school over these last 300 years. On a beautifully sunny day, the children in Years 5 and 6, smartly dressed in their 'Best Blues', were joined in St Philip's Cathedral by parents, Old Scholars, current and former staff members (including 2 former Headmasters, Mr Bissell and Mr Browning) and Governors. The service of thanks was led by the Very Reverend Matt Thompson, Dean of Birmingham and one of our School Governors.
The Cathedral, affectionately know as the 'original Blue Coat Chapel' thanks to its location right next to the very first school buildings, was brought alive by drama and music. Senior Choir gave a moving rendition of Melody of Love by Jim Papoulis and the Chapel Choir sang the impressive Sortie from An Easter Sequence by Kenneth Leighton, accompanied by a trumpet and the cathedral organ.
Year 6 children enacted the story of The Reverend William Higgs whose idea it was to build a school for the poorest children in Birmingham; Reverend Banner whose job it was to gain permission to use a small piece of land next to Saint Philip's churchyard; Riland Vaughton, a well-known and wealthy businessman of the city who used his influence to establish the school building fund; and Samuel Grubb who sculpted the Blue Coat boy and girl statues which now stand in our school Reception area.
On Sunday August 4th 1724, the school opened to 52 children: 32 boys and 20 girls. What an incredible journey it has been on to the present day, when we now welcome 624 children from diverse communities all across Birmingham.
Today, it was the turn of Years 2, 3 and 4 to celebrate the vibrant history of our school in a service led by Mr Neeson and Rev Charlie Butler from Edgbaston Old Church, and Old BCS Scholar. I wonder whether you would be able to answer some of Mr Neeson's quiz questions, including
When did the School move to Harborne: in the 1930s or 1960s?
How many Heads of BCS have there been: 38 or 39?